If you have my Fred She Said badge ( that has "want this badge?" written under it ( hosted on Word of Blog.net) )
PLEASE REMOVE it!
I overrid my malware scanner and attempted to delete the badge and my account but ARGGGH! the gif is still showing up on people's blogs and now goes to a
blank page ( Not my site) and still trips up Mr. Malware ( the WordOFBlog.net site is "tagged"). ARGGh! I doubt if anything bad will happen but now it is BROKEN.
Either use the old NEW Logo from
THIS POST
Or grab my new blinkie code!
:D While in your blog LAYOUT area, add a "HTML/Java Script" GADGET and copy and paste the whole code below and click SAVE. Then move the new gadget to where you want it in your blog layout, click SAVE.
NOTE if you are viewing via email or feed, this code box above might not show up ( the gif will show instead) ... please go to my blog to get it.
This is what the blinkie will look like: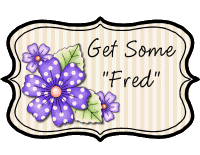 I am so sorry for this MESS. I wrote WordofBlog a disgruntled letter ( mean face).
Unlike me, Have a great day!
:)* Fred